CHOOSE WHETHER TO SIT OUT ON THE TERRACE OR INDOORS:
Amona Maria delicatessen offers you a wide variety of typical Basque dishes to snack on as you wish.
In our cellar you'll find the perfect wine to accompany your food.
THE BEST SOUVENIR OF GETARIA
Create your own selection of Basque produce
At Amona Maria we like working in local and artisanal mode, exactly the same way as all of the goods we select for our shop are produced. We take great care when preparing every selection of produce, because each one is unique.
We believe that what makes a gift or reminder special is the care with which it is prepared. We put all of our knowledge and soul into composing a hamper of goods, choosing the bottle best suited to you, and giving you personal advice on your choice of produce when required.
The result of our passion for quality are these hampers prepared bearing in mind the perfect produce match every time.
We pay attention to every detail, because that's what lends a delicatessen produce its excellence.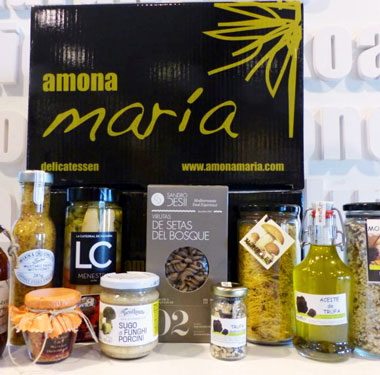 Kutixi hamper
A reminder of the Basque Country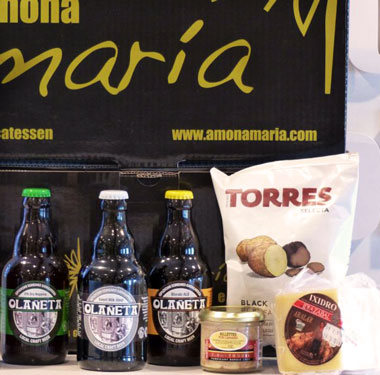 Galerna hamper
For beer-lovers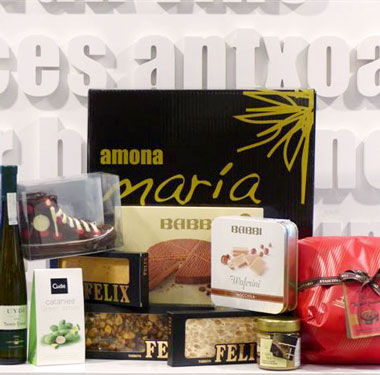 Olentzero hamper
With a Christmas feel
Our passion is quality and our desire is to share the knowledge acquired over the years with our visitors. Every moment, every mouthful, is special, and the function of our produce is to play its part in making them perfect.
Amaia Arregi & Javi Isasti
Amona Maria delicatessen
OUR SETTING
In the port of Getaria
Ours is an idyllic setting, where the land meets the sea, in the heart of Getaria.
The experience we offer makes for a delectable moment that we hope you will thoroughly enjoy.
ADDRESS
Plaza de Katrapona, 2. 20808 Getaria (Gipuzkoa)
TELEPHONE
EMAIL